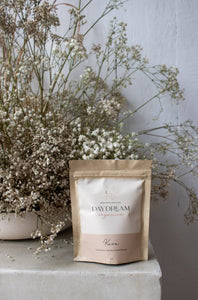 Kava Herbal Powder
$2895

$28.95
Tax included.
Shipping
calculated at checkout.
---
---
Unwind, relax the mind, clarify the thought processes and promote a feeling of euphoria with our Kava tincture. This Pacific herb is known for it's ability to enhance feelings of peace and harmony throughout the mind, body & soul.  How to Use: Take 1/4-1/2 teaspoon (occasional use only) in coffee, teas, smoothies or any other beverage of choice.  Ingredients:  Kava Kava (Piper methysticum) root. Caution: Consult a Health Care Practitioner if symptoms persist or worsen. Consult a Health Care Practitioner prior to use if using conventional sedative-hypnotics (or natural products with similar effects), anxiolytics, MAO inhibitors, and other psychopharmacological agents, levodopa (or other drugs for Parkinson's disease), or anti-platelet agents.
Shipping in Canada only 
When taking Kava Kava, feelings of numbness and tingling in the mouth and body are completely normal as the plant contains a compound known as Kavalactones, which is known to have numbing and sedative effects. This compound is what makes Kava so effective in calming the nervous system, fighting stress and relaxing the mind and body!
Ingredients:
100% sustainably Vanuatuan grown Kava Kava (Piper methysicum) Root. 
Product Details:
Consumption with alcohol, other drugs or natural health products with sedative properties is not recommended.

Not for use when pregnant. If you are breastfeeding, consult a healthcare practitioner or professional prior to use. Discontinue use if any adverse reactions occur. 

Store out of direct sunlight, in an airtight container,  at room temperature for best preservation (lasts up to 2 years).